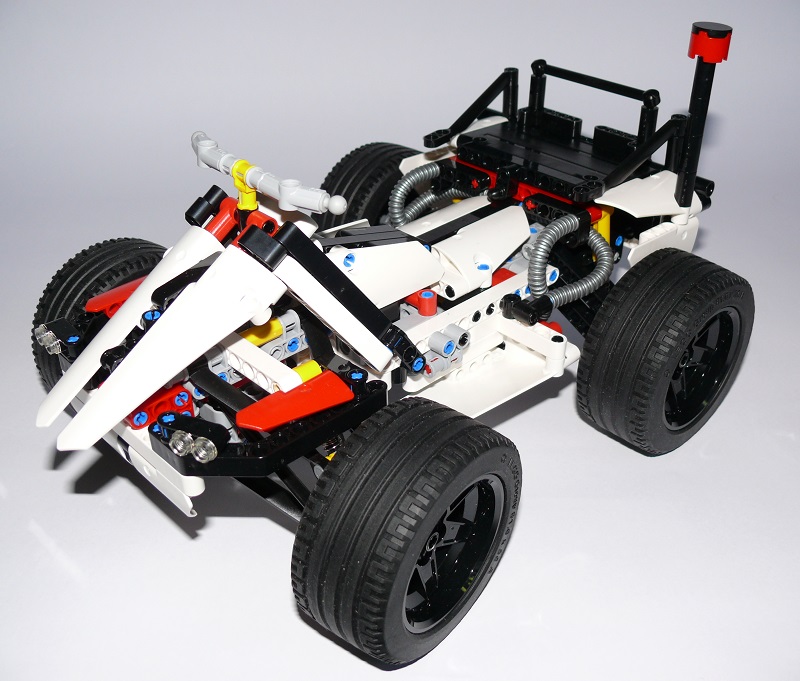 A few months ago, I bought a 42000 Formula 1 from Bricklink. It's a pretty nice model, i like the suspension arms and the way it's designed. I kept it for the holidays and last week, I built it. It was a rainy week in the west of France, rainy and cold, and I had plenty of time to spare so I decided to disassemble it and to create a new moc from that box.
After awhile and a good advice from my lady, I chose to create a quad. At first, she wanted a dragster, but it would have required a pair of smaller wheels for the front axle. Choosing to build a quad was a good idea for me, because, like I said earlier, i really, really like those suspension links and quads usually have those kind of levers on their axles.
Here's the result of 4 periods of 2 to 3 hours of building. The quad has the following functions :
Suspended rear axle
Suspended front axle
Steering axle without rack and pinion, it's based on a lever linked to the handlebar
Openable rear trunk
V4 motor located under the driver's seat
It's made of roughly 530 pieces, mainly black and white ones, the red ones being left apart because red does not really match to the police colors. To match reality, I did not placed a differential on the rear axle. Technically, it's a really bad idea because the big flat wheels of the formula 1 won't allow the quad to turn very well, they stick to the ground and dont slip at all, but at least, it looks real. If you build that quad and wanna play with it, I advise you to be wise and to place a differential on that rear axle, or if you dont want to, just unlink the 2 wheels and to keep only one to drive the fake V4 motor.
If you build it with different colors, i'll be happy to see a few photos !
Downloads :